Slating,Roof Tiling & Re-Roofing Contractors.
Chinese Slate Roof in West Lothian with Snow pins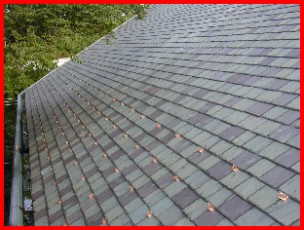 Roof finished with Farmhouse Red Sandtoft 20/20 Clay Interlocking Roof Tiles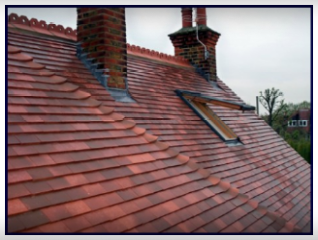 West Lothian Roofing & Roughcasting Services in Bathgate
West Lothian Roofing Services
are pleased to offer advice on the benefits of new Solar Roof tiles, a great invention to cheaply harness the energy from the sun without installing ugly panels.

We are always busy Roughcasting & Rendering peoples homes and properties, keeping them wind and watertight during our unpredictable weather.

For more information on our many roofing services, the roofing material manufacturers all carry online brochures and colour charts of many clay, concrete and plain roof tiles and many different varieties of slate.

Roof in Edinburgh slated in Spanish Slate with Zinc Ridging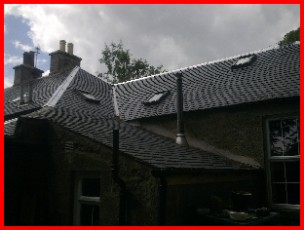 Roof Tiling in Plain Roof Tiles with Velux Roof Windows Installed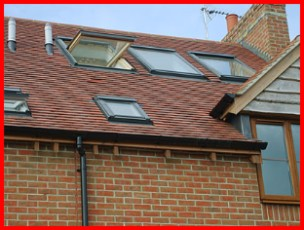 Mixed & blended Clay Rosemary Roof Tiling in West Lothian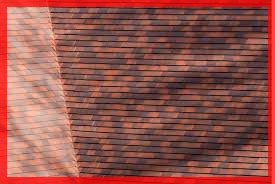 Slating in West Lothian Scotland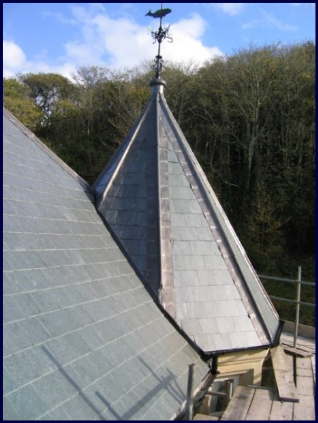 A Sunroom in Edinburgh Slating with Spanish Slate Heavy 3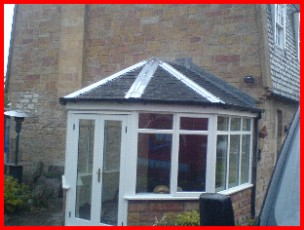 Re-roofing with Roof Tiling or Slating
Clay Rosemary and Clay Pantiles provide an extremely sound modern roofing option.
Developed using a meticulous process utilising the latest in clay technology, they are designed as a modern interlocking tile.
They create a striking look in either Terracotta or Black complete with all the character of a natural clay tile, they are designed to mellow with age.
For the Scottish climate Cupa Heavy Duty 3 is the preferred slate of choice for discerning roofers. A Spanish slate Cupa Heavy 3 is a unique slate produced in the same quarry as Cupa 3, but is split to a thickness of 8-10mm. It is specially produced for the Scottish market as an alternative to Ballachulish Scotch slated roof, but is also ideally suited to Ireland's landscape and Atlantic climate.
Cupa Heavy 3 is suitable for commercial projects and residential developments. Its ability to combat dampness also makes it a favourite for conservation projects throughout the UK.
Good Scotch slate is becoming harder and harder to come by and most Scotch slate is now at their end times, breaking up and going "soft".There are numerous options available when deciding on a roof. Most popular manufacturers are Marley Roof Tiles and Redland Roof Tiles.
The BritLock and Cambrian slates are man made re-constituted slate yet continue to present an authentic natural slate appearance.
These Interlocking slates provide a weathertight layer through the use of interlocking weather bars.
We also install Decra Metal sheet roofing, which looks like Roof tiling or Slating and comes in many different styles & colours.








A Conservatory Roof Conversion with an Insulated Roof & Velux Roof Windows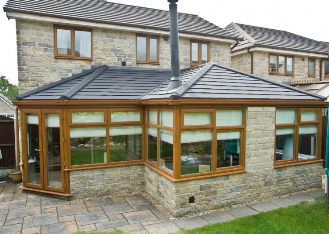 Brown Tapco Tiles used on Conservatory Roof Replacement, Scotland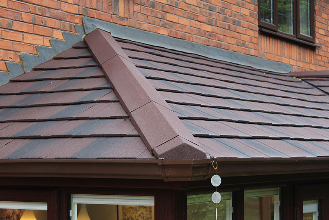 Lovely P-Shaped Conservatory Conversion completed in Brown Tapco Roof Tiles
Lightweight Roofing Contractors,Lightweight Roofing,Lightweight Roofing Installers,Lightweight Roofing Options.
A Timber Chalet roofed in lightweight Grey Tapco Slate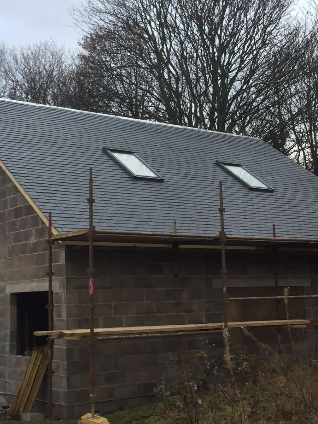 SLATE ROOFING & RECONSTITUTED SLATES

For many centuries,
slate roofing
has been desired for its durability and beauty. With authentic surfaces and edges, Tapco Slate highlights the handsome character of slate, at the same time enhancing roof performance through innovative design.
Unlike
natural slate
, TapcoSlate won't break or delaminate and comes with a
Limited Lifetime Warranty
.

BBA Certified
TapcoSlate
gives you the power to evoke both historical elegance and outstanding modern-day style. Our slates are created with moulds cast from real slate to capture genuine peaks, plateaux and curves. Colour-through design and UV stabilisation ensure "stay-true" richness for traditional colours such as Pewter Grey and Plum, bold tones like Brick Red and unique selections such as Emerald Green and Grey/Black blended tiles.


Tapco Slate
Mixes are another feature of our unique colour choices, they deliver uncommon elegance through boldly-appealing multiple colours to turn your
roof into a work of art
.

Call us today and discuss our range of products and services, from a
Conservatory renovation
or
Garage Re-roof
to a large conservation project.

07783 870676
A Conservatory Conversion with Roofing in Tapco Slate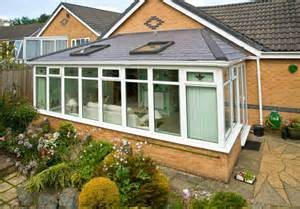 Beautiful Tapco Slates on a Conservatory Roof Replacement in West Lothian